Transient Quadriparesis
with Drop Attack and
Chronic Neck and Arm Pain
Clinical Case Overview
A 40-year old lady had been suffering for years from neck pain. A prior recumbent MRI had shown a C 5-6 disc degeneration with a posterior bulge and a moderate segmental kyphosis.
Despite repeated attempts with conservative treatment, the patient's symptoms worsened and were marked by the onset of transient paresthesias, transit loss of muscle tone in the legs and drop attacks.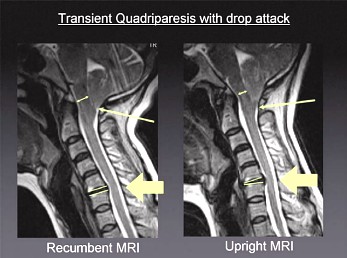 When the Upright™ MRI was performed, it showed both an increased disc protrusion and segmental kyphosis at C5-6 relative to the recumbent MRI (thick arrow), as well as, a descent of the cerebellar tonsils behind the arch of C1 (thin arrow) accompanied by brainstem compression (double arrow) against the odontoid process. This Chiara I Malformation, with position-related downward herniation through the foramen magnum visible only by means of the FONAR Upright™ MRI, explained the drop attacks and the transient loss of tone in the legs, which could not be accounted for by only the C 5-6 bulge seen on the recumbent MRI.
With the achievement of the correct diagnosis of the patient's symptoms, made possible by the FONAR Upright™ MRI, the correct surgical treatment was accomplished and consisted of a posterior fossa decompression plus a C1 laminectomy and dural plasty. The C 5-6 herniation and kyphosis that was aggravated by the upright position was treated with an anterior C 5-6 discectomy and a cage placement.
J.P. Elsig, M.D.
Orthopedic Surgeon
Fellow of the Swiss Orthopedic Society
Member of the Board of the Swiss Spine Society
FMRI Zentrum
Zurich, Switzerland